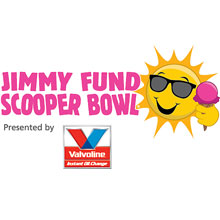 Jimmy Fund Scooper Bowl®
|2023
presented by Valvoline Instant Oil ChangeSM
12:00 p.m. – 8:00 p.m.
Gillette Stadium
Foxborough, MA
Jimmy Fund Scooper Bowl® has been serving up sweet scoops of your favorite frozen treats from Boston Common, Boston's City Hall Plaza, and Patriot Place in Foxborough, while supporting Dana-Farber's mission for 40 years in 2023!
We look forward to welcoming ice cream lovers of all ages back to Patriot Place on Friday, June 2, and Saturday, June 3, from noon to 8:00 p.m. Attendees will enjoy all-you-can-eat ice cream and other frozen treats, plus live entertainment, games, and more.
Ice cream lovers who are 21+ are invited to join us for Scoop at Night at Patriot Place on Friday, June 2, from 5 to 8:00 p.m. Enjoy summer's sweetest happy hour with unlimited ice cream, two drink tickets, live entertainment, and games. IDs will be checked at the entrance.
We look forward to seeing you this summer as we celebrate 75 years of progress and impact made possible by the Jimmy Fund community. Thank you for doing your part to help Dana-Farber prevent, treat, and defy cancer.
Event Information
Raquel Morales
857-215-5025
scooperbowl@dfci.harvard.edu
Press Inquiries
Colleen Brown
203-858-6071
colleen_brown@dfci.harvard.edu
Presenting Sponsor
Sign up for updates ›